I've just picked up my copy of Squadron UK again as I intend to try and convert over my original Golden Heroes characters to the new system. Originally i'd planned to write up a character conversion document although i'm not sure if that's really necessary. Seems that a list of powers then and now would be more useful. I have noticed that Immunity has gone and doesn't seem to have been directly replaced. It would appear that
Survival has taken over that role? Thoughts? I'll post one of my conversions later today when i've finished it and would be interested in your opinions on whether I could have done it better.


Sorry, took me longer than I thought and i'm stuck here without my rulebook
handy. First up is the original Golden Heroes character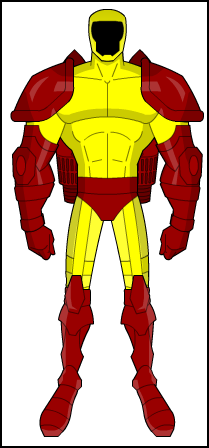 Pyrotechnic
Alias: Abraham Strong
EGO: 11 STR: 13(31) DEX: 11 VIG: 13
Movement: 6m Dodge Modifier: Cannot Dodge
Damage Modifier: +16 Strike Modifier: 0
Defence Class: 3 Frames: 4
HTK: 55/4
Recover: 1d6 per 1 per hour Hospitalised: 5
HTC: 57/3
Push Back:20
Recover: 1d6 per round Stag: 10 Stun: 5
Superpowers:
Armour 2
Energy Attack: 1 (Flame) 15d6, High Power Attack
Energy Immunity (Flame)
Skills: 2 (Computer Knowledge, Electronics)
Strength: 1
Health: 1 - Enviromental Survival (Ocean)
Advantageous Background: Brilliant Scientist-Mechanical
Notes:
Abraham Strong was sole developer of an experimental undersea construction suit.
His employer was a large corporation with fingers in many pies, not all of them
legal. An attempt to liberate the suit from Strong's lab resulted in him
receiving a head injury when using the suit to defend himself. As a result, the
previously law abiding Strong's personality changed and he resolved to use the
suit to achieve his own twisted ends. His reluctance to injure innocents may
point to the survival of some of Strong's previous character traits." />
Now this is the SQUK 2nd edition version. You may notice a couple of changes,
specifically the character now has flight. This is because the 2nd edition rules
remove the need for a power roll for skills and the Immunity power, so I
rationalised the suit has built in thrusters which can provide a form of flight.

Pyrotechnic

Alias: Abraham Strong

STR: 26(13)/13(7) END: 13/7 DEX: 11/6 AGL: 10/5
PSYCHE: 12/6

Move: 5/5 Knockback: 39(26) Damage Modifier: +14

Modifiers: Agility -5
Kill: 43/3 Stun:48/3

Superpowers:
Protection 2 Armour (Immune to bullets/knives, +1 to Agility rolls)
Energy Blast (Flame, 10d/5 rounds recovery, 11 square straight line)
Strength +5 lifting/throwing
Survival 2 Resistant to Pressure, Radiation, Flame, Gas, Air Supply (12 hours)
Flight

Background: Brilliant Engineer

Common Skills: Computer Use, Searching, Swimming, Spotting/Notice

Trained Skills: Computer Programming +4 , Engineering Design +4, Electronics +5,
Engineering +6, Sea Diving +5

Pyrotechnic was used in the revised version of Lancelot caper and the original one i ran (twice) at Dragonmeet, he performed really well. leading the motley crew to victory.



Posts

: 286


Join date

: 2012-03-28


Location

: West Sussex




Similar topics
---
Permissions in this forum:
You
cannot
reply to topics in this forum